Product Launch: Quantum Neo x-ray upgrade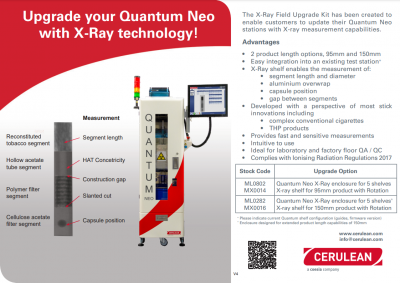 With increasingly complex products being produced, it's now time to give your machine superpowers.
Upgrade your Quantum Neo to utilise x-ray technology, the latest addition to the Quantum Neo measurement range allows you to see inside your product. With the ability to measure lengths of segments and capsule positions, the x-ray shelf delivers confidence in your manufacturing quality.
The Quantum Neo x-ray is tested and validated for cigarettes, THPs, base rods and filters.
Use the x-ray shelf along with the other range of Quantum Neo measurement shelves allowing an all-in-one test station for Quality Control and Assurance.
Designed for the shopfloor and laboratory, the Quantum Neo test station is the test station of choice globally.
Contact us for more information