Special Offer: Upgrade your Laser Measurement System Today!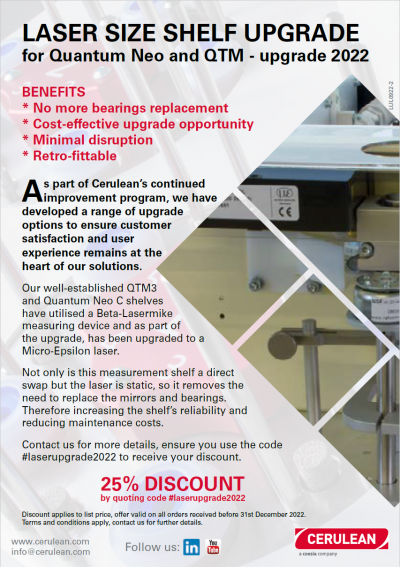 As part of Cerulean's continued improvement program, we have developed a range of upgrade options to ensure customer satisfaction and user experience remains at the heart of our solutions.
Our well-established QTM3 and Quantum Neo C shelves have utilised a Beta-Lasermike measuring device and as part of the upgrade, have been upgraded to a Micro-Epsilon laser.
Not only is this measurement shelf a direct swap but the laser is static, so it removes the need to replace the mirrors and bearings. Therefore increasing the shelf's reliability and reducing maintenance costs.
Contact us for more details, ensure you use the code #laserupgrade2022 to receive your discount.