Upgrade: CETI8 Enclosure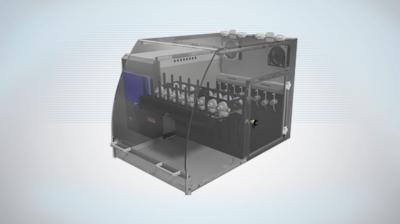 Cerulean is pleased to introduce a new environmental enclosure for the highly successful CETI8 product range.
The growth in THP product use and the legalization of recreational and medical cannabis has resulted in increased product variety and a rise in testing requirements. Consequently, Cerulean has received multiple requests from testing laboratories for hoods to shield operators from emissions emanating from devices under test.
The Cerulean enclosure covers only the operational portion of the machine leaving the user interface exposed to allow access to the HMI and controls. It is supplied with a filtration system as standard which consists of a double filter cassette, a HEPA filter and a Carbon Activated filter (CAF) which allows exhaust within the laboratory. A complete air exchange takes less than two minutes.
Users can access the CETI8 workspace via the lift-up mechanism which enables sufficient reach to the rear of the CETI8 workspace by pushing the front door to its rearmost position. The impinger bath or ETS areas can be accessed through a hatch door conveniently designed on the side of the enclosure.
The enclosure is effective at stopping unwanted odours from reaching users, in addition, it mitigates the ingress of contaminants to laboratory surfaces. The enclosure's exhaust can also be plumbed to the laboratory ducting where possible to allow evacuation outside of the laboratory environment.

See the CETI Range of equipment here: Link